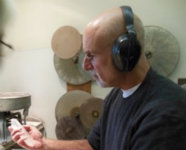 Lawrence Stoller is an internationally recognized, award-winning artist who has pioneered the art of sculpting spectacular mega-gems, including several of the largest gemstone sculptures in existence. His work has been featured in numerous shows and galleries in the United States from Rodeo Drive in Los Angeles to Fifth Avenue in New York, as well as international shows such as Furstman Institute of Mineralogy in Moscow, Russia.

View the large-scale, one-of-a-kind crystal installations and artworks by Lawrence Stoller CrystalWorks
In 2003, Lawrence Stoller completed a commission for American Express, creating the centerpiece of the 9/11 "Eleven Tears Memorial", located across the street from ground zero.

The making of the American Express 9/11 memorial by Lawrence Stoller CrystalWorks.
Lawrence Stoller's collaborative work "Bahia", stands as a cornerstone of the museum collection at the Gemological Institute of America in Carlsbad, CA.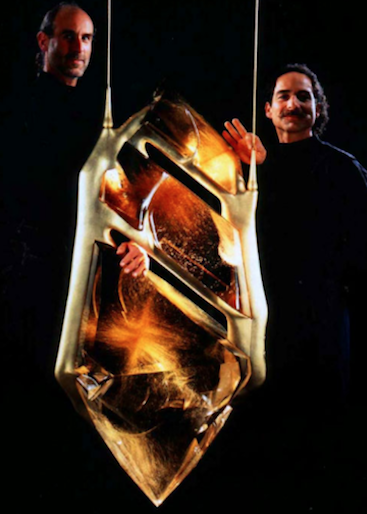 Bahia: A magnificent 426 lbs. rutilated quartz crystal sculpture, playfully referred to as 'the world's largest pendant'.

Each Lawrence Stoller sculpture is a one-of-a-kind piece of art that will stand the test of time as an heirloom collectable. Custom sculptures are available upon request.
Lawrence shares his relationship with each crystal:
"We begin a relationship, the crystal and I, committing to the work of finding it's highest expression. Before we begin working, I connect by touching and exploring, examining the history of it's worn and broken surfaces peeking inside where it's beauty lies still. I admire it. The inspiration is combustible.
We agree about the work to be done, and I envision a blueprint of it's potential form. I won't make a cut until I feel a "yes" fill my body, clearing me to proceed. To change the state a stone that has been in for millions of years can be daunting, yet also serious fun. It is my task to elicit beauty from matter. The crystal trusts me. Beauty is the primal force, emanating from, and amplified by, the crystal. I focus on activating the flow and force of beauty."